U18/A Bronz érmesek vagyunk
2023. Április 27.
7 hónapja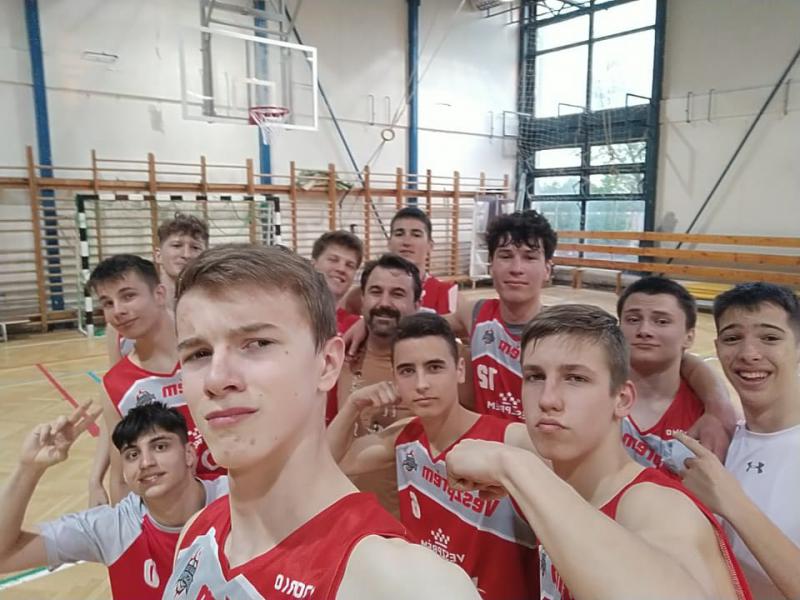 vissza

IDŐPONT: 2023.04.27. 18:00.
HELYSZÍN: Gárdonyi Géza Görög-katolikus Általános Iskola Tornaterme. Dunaújváros.
BAJNOKSÁG: REGIONÁLIS FIÚ JUNIOR, KE - 2022/2023. RÁJÁTSZÁS. Bronzmeccs.
EDZŐ: David Martos Bertelli.
AF Dunaújváros A 84-90 VUKE/A.
21-18; 23-27 (44-45); 19-27 (63-72) és 21-18.

Edzői értékelés:

We are 3rd.

Proud of the team's work to win against a rival who beat us with 45 in September, in March with 50 and on April 1 with 8. It did not escape me that their best player was injured.
The game began with two teams testing each other, but soon the local took the first advantages. Despite putting us 1 up, a bad end to the fourth gave the rival +3.
In the second quarter we started plugged in and well in defense, but when we got ahead we lowered our defensive level again and the rival took advantage of it to get 5 up on the scoreboard.
After some changes and with very good offensive criteria and success by our hat-trick, we got a 40-45 that ended up at +1 after two offensive failures.
After the break, both teams started with an excessive success, either by own merits, or by other people's demerits. If we are not aggressive defending, there comes a time when we lower our offensive accuracy and that is what happened.
But behold, the team, which had received 15 points in 4 minutes, received 4 in the following 6 and we turned the score around to put a +9 at the end of the third period that, in the end, was definitive.
In the last period we were always ahead with an advantage that was only reduced to 3 (82-85) with 3 minutes to go, but we knew how to defend and close the rebound, which gave us the victory.
As for the season, which has not finished yet since there are training sessions until June 15 and I want to play a friendly, it has been a season with ups and downs, since the team started very well and, I think, they suffered from a lack of games between September and the end of November. After this, we played very well until December 10, when we stopped playing.
Christmas, due to rest (necessary) and lack of slopes (gas rose a lot and schools closed slopes and the number of hours was reduced), hurt us. In addition, the injuries of several players did a lot of damage to us.
After two bad games in January, we had the second half of January and the first half of February to raise the level of the boys who, little by little, were reaching the desired level, although it was difficult for them to catch up until the end of March.
Already in April, although the opponent was the same, or precisely because of that, we have once again been at a high level, surpassing ourselves playing against a very good team, very well trained.
We have known how to start playing harder, more aggressive, although sometimes abusing the shot, which has made us draw many free kicks from our rivals. We have reduced the number of defensive errors and we have improved somewhat in rebounding.
Anyway, there is a month and a half of work left, I hope to play a friendly or two if possible, to keep some tension in the boys (whatever is said if you have the incentive to play the players train more and better).
For the rest, keep working.
Részletes statisztika:
Következő mérkőzés
K
VESC
VS
2023. 12. 03.
---

VS
2023. 12. 03.
---
DKKA Zsiráfok
VS VUKE U11 Farkasok
2023. 12. 03.
---

VS OSE U16/B
2023. 12. 09.
---
Dávid Kornél KA
VS
2023. 12. 10.
Korábbi mérkőzés
Kövess minket