U18 A-B. 4 meccs, egy csapat.
2023. Április 03.
7 hónapja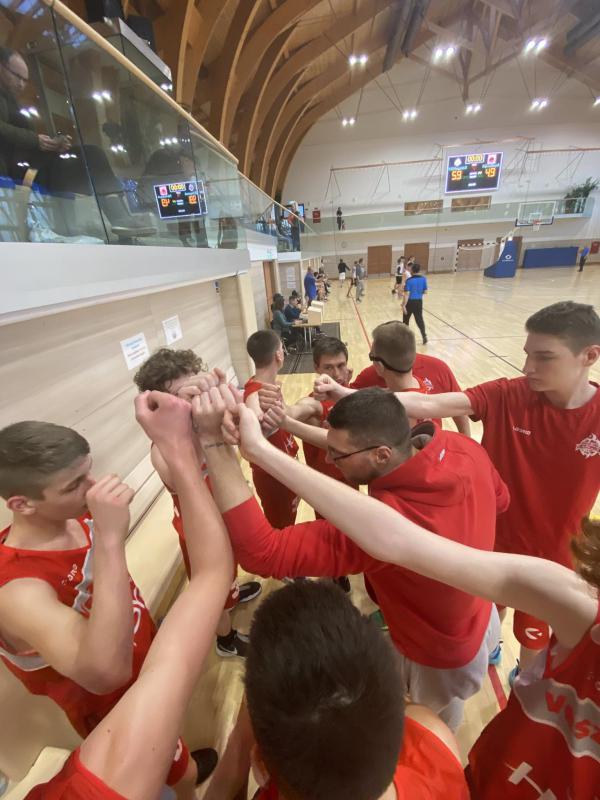 vissza
Last Saturday, April 1, the group of players U18 A and B traveled to play the last 4 Regular League games against Dunaújváros A and B (although A is a subsidiary of Alba Fehervar). The matches were played in the Rácalmás Municipal Hall, a large sports facility.
IDŐPONT: 2023.04.01. 15:00-19:30.
HELYSZÍN: Rácalmás. Rácalmás Sportcsarnok.
BAJNOKSÁG: REGIONÁLIS FIÚ JUNIOR, KE - 2022/2023
EDZŐK: David Martos Bertelli és Mádar András.
15:00 AF-Dunaúj A vs VUKE B
16:30 Dunaúj B vs VUKE A
18:00 Dunaúj B vs VUKE B
19:30 AF- Dunaúj A vs VUKE A
First match:

AF- Dunaúj. A 88-23 VUKE B.
27-6, 25-4 (52-10), 26-4 (78-14), 10-9.
Edzői értékelés:
Good game in defense of ours.
In attack, without the top scorer, it cost us a lot; despite having made 15 good shots, none scored.
In defense we were correct, the rebound weighed us down and, sometimes, the balance and defensive positioning.
Good job from the boys against the second in the League. From 50-117 to 88-23, without our top scorer, it's a great advance.
Second match:
VUKE A 99-47 Dunaúj. B
26-12, 27-13 (53-25), 29-13 (82-38), 17-9.
Edzői értékelés:
Good game in general terms from our team that has managed to maintain the tension until almost the end against a physically inferior team.
Even so, it has worked quite well and we can be happy with the attitude and the work of the boys.
Third match:
VUKE B 61-50 Dunaúj. B.
17-12, 8-20 (25-32), 19-15 (44-47), 17-3.
Edzői értékelés:
Victory of merit and character because, lacking points, the boys have worked very well defensively.
After a good first period in which we got 5 up, we were terrible in the 2nd and we let the rival believe it and lead 25-32 at halftime. After the break, the rival was still at the height of the "sufflé", but we knew how to stop that push and with a good defense in the last minutes of the third but, above all, with a good attack thanks to a very good job without the ball, we put 44-47.
In the last quarter we continued with the good offensive work, but in defense we gave a turn of the screw and, especially with the boxing out of the rebound, we left the rival at 3 points and we won a game thanks to a game of character, going up to 10 points after having made a good start.
Fourth match:
AF- Dunaúj. A 85-77 VUKE A.
18-18, 26-13 (44-31), 19-20 (63-51), 22-26.
Edzői értékelés:
And the day came when we saw the team we aspired to.
Today, finally, we have been a team, we have worked as such in front and behind and we have had the character not to let the rival go.
We started the game very well, attacking the basket and moving the ball, which gave us the first advantages. After two triples the rival took the lead and we spent the whole quarter in a good give and take that ended in a draw.
The second quarter was more of the same until the rival toughened up the game and we didn't lose focus and intensity. After this, the rival got +15, but we stopped their rhythm and we knew how to play ours.
After the break the level of the team continued to be adequate, we just didn't know how to defend a Blind pig system well until the last minutes of the second half.
The best thing is that we played very well without the ball, we passed much better than in other games and we defended with contact and intelligence.
We knew how to play one on one and it allowed us to win the second half by 5 against a team that we lost 45 against in September, less than a month ago we lost 50 and today 8 and fighting the game until the end.
PS: Great job that we have to continue in the Play Off because the regular season is over.
Having finished 4th with U18/A (8-6, 1186-1087, +99) we will play at the home of the leader (Tata SE) in one game and then third and fourth place in one game too, presumably at David's house Kornél Academia B.
Anyway, very happy with the boys' game... Let's hope it's not a flash in the pan or a "fools day" joke.
Következő mérkőzés
K
VESC
VS
2023. 12. 03.
---

VS
2023. 12. 03.
---
DKKA Zsiráfok
VS VUKE U11 Farkasok
2023. 12. 03.
---

VS OSE U16/B
2023. 12. 09.
---
Dávid Kornél KA
VS
2023. 12. 10.
Korábbi mérkőzés
Kövess minket